APV's tread striping inks are offered in both water-based and solvent-based chemistries for various rubber substrates. The inks are typically used in OEM after the tire tread is extruded in an uncured state and functions to mark the centerline of the tread or to provide color coded stripes for identification purposes. Tread striping ink is also incorporated in other rubber manufacturing processes including the production of automotive belts, sheet rubber, and industrial hose and tubing.
Offered in a variety of colors and viscosity ranges, the formulations are engineered to remain solid and bright, even after curing, and do not produce mold fouling. Solvent-based formulations are co-curable, fast drying and contain no hazardous air pollutants (HAPs). Water-based formulations are free of volatile organic compounds (VOCs) and comply with EPA guidelines.
APV has a full-service engineering team for customized equipment design and installation.

Application:
APV's Beugler Wheel® striping system consists of a bottle of tread striping ink with a Beugler Wheel® cap. The bottle is placed upside down in a holder with the Beugler Wheel® cap against the tread. As the tread moves, it rotates the wheel allowing it to pick up the ink inside the bottle and transfer it evenly onto the tread. The Beugler Wheel® heads are available in a variety of sizes and pitches to allow different stripping widths and transfer amounts.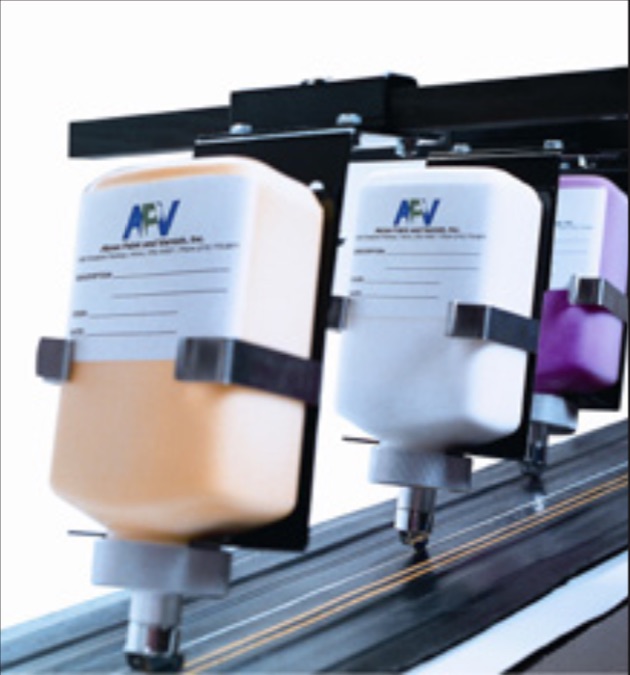 More information can be found on the
APV website
.
Our technical advice – whether verbal, in writing or by way of trials – is given in good faith but without warranty, and this also applies where proprietary rights of third parties are involved. It does not release you from the obligation to test the products supplied by us as to their suitability for the intended processes and uses. The application, use and processing of the products are beyond our control and, therefore, entirely your own responsibility. Should, in spite of this, liability be established for any damage, it will be limited to the value of the goods delivered by us and used by you. We will, of course, provide products of consistent quality within the scope of our General Conditions of Sale and Delivery.
Inquiry
Do you want to know more about Inks? Send us a message and we'll get back to you!