Crayons and inspection markers are ideal for industrial applications in the tire, rubber, hose, automotive, and other OEM industries. The products have low VOCs and are typically used for inspection and identification purposes.
Dot Markers
PRODUCT CODE: T-Series (water based) and D-Series (solvent based)
Dot markers are typically used in tire manufacturing to denote high point, conicity, and pass/fail marks. The dots help to ensure synchronization of the tires during the rim assembly process and when mounting a tire. Available in water-based or solvent-based, dot markers are applied by hand or installed in a balancing/uniformity machine.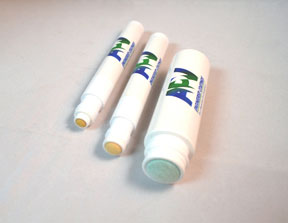 Dot markers are available in three sizes:
Small: 5-8mm
Standard: 10-13mm
Extra Large: 18-23mm
Our technical advice – whether verbal, in writing or by way of trials – is given in good faith but without warranty, and this also applies where proprietary rights of third parties are involved. It does not release you from the obligation to test the products supplied by us as to their suitability for the intended processes and uses. The application, use and processing of the products are beyond our control and, therefore, entirely your own responsibility. Should, in spite of this, liability be established for any damage, it will be limited to the value of the goods delivered by us and used by you. We will, of course, provide products of consistent quality within the scope of our General Conditions of Sale and Delivery.
Inquiry
Do you want to know more about Inspection Markers? Send us a message and we'll get back to you!