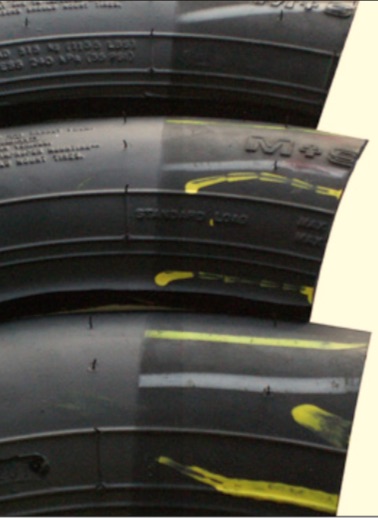 APV specializes in engineered paints and coatings for a vast range of applications. Whether you are looking for stain blocking, UV resistance, corrosion protection, abrasion resistance, or a zero VOC coating alternative, APV has a formulation for you.
Water-based, Pre-cure Outside Tire Paint
Product Code: P-9990, P-9992, P-9346, P-9572
This line of Outside Tire Paint, also termed anti-blemish paint, is spray- applied to uncured or green rubber surfaces. In addition to improving aesthetics, Outside Tire Paint provides a clean release from the mold/ curing press. These paints are also used to promote rubber flow and air release, which eliminates lights, cracks, non-fills and blisters.
Water-based, Post-cure Repair Paint
Product Code: P-9562, P-9217, P-9382, P-9383
Repair Paints are used on cured rubber in the final finish and inspection stage in tire and retread production. Repair Paints cosmetically hide imperfections on a tire sidewall
or tread surface, eliminating blemishes, scratches, chalk, crayon marks, etc. The product is spray-applied with an atomized spray gun for an even, smooth coverage.H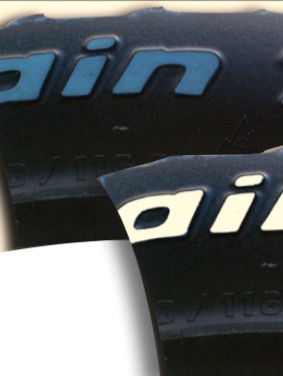 Water-based, Post-cure Sidewall Protective Paints
Product Code: P-6922, P-6004
Protective Paints are used in the final finish stage in production on cured white lettering and white sidewall panels to maintain aesthetics and protect against staining. This product has been proven to minimize staining caused by stacking tires during storage, shipping and handling.
Our technical advice – whether verbal, in writing or by way of trials – is given in good faith but without warranty, and this also applies where proprietary rights of third parties are involved. It does not release you from the obligation to test the products supplied by us as to their suitability for the intended processes and uses. The application, use and processing of the products are beyond our control and, therefore, entirely your own responsibility. Should, in spite of this, liability be established for any damage, it will be limited to the value of the goods delivered by us and used by you. We will, of course, provide products of consistent quality within the scope of our General Conditions of Sale and Delivery.
Inquiry
Do you want to know more about Paints & Coatings? Send us a message and we'll get back to you!