Product description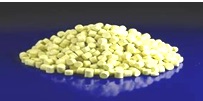 Function: Vulcanizing agent for natural and synthetic rubber compounds.
Composition:
Approx. 65% Total sulphur
Approx. 58.5% insoluble sulphur
35% Elastomer binder and dispersing agents
Appearance: Yellow granules
Density, 20 ºC: Approx. 1.4 g/cm3
Solubility: Partially soluble in CS2 (carbon disulphide)
Physiological properties: See Safety Data Sheet
Use
Mode of action: Isogran® IS 90-65 contains approx. 58.5% by weight of a modified polymeric sulphur, which is insoluble in carbon disulphide and other solvents.
Isogran® IS 90-65 is a vulcanizing agent for all natural and synthetic rubber compounds in which sulphur bloom or infiltration of neighbouring layers of compound should be avoided. The use of insoluble sulphur Isogran® IS 90-65 is therefore recommended for all applications that require laying-up, welding, or where good ply-adhesion is essential.
Processing: The thermoplastic, fully compatible polymer binder which is combined with special dispersing agents allows quick absorption and excellent dispersion in the rubber. In this way, optimal activity of the effective substance assured. In order to avoid the insoluble sulphur converting into soluble sulphur Isogran® IS 90-65 should only be added towards the end of the mixing process.
Dosage: Isogran® IS 90-65: 1 – 6 phr
Application: All types of tyres, conveyor belts, re-treading material, assembled hoses, etc.
Packing: 25kg cartons
Storage stability: In original closed containers under cool and dry conditions max. 1 year. At storage contact with destabilizing substances should be avoided.
Handling: Consult Material Safety Data Sheet (MSDS) for additional handling information on Isogran® IS 90-65.
Our technical advice – whether verbal, in writing or by way of trials – is given in good faith but without warranty, and this also applies where proprietary rights of third parties are involved. It does not release you from the obligation to test the products supplied by us as to their suitability for the intended processes and uses. The application, use and processing of the products are beyond our control and, therefore, entirely your own responsibility. Should, in spite of this, liability be established for any damage, it will be limited to the value of the goods delivered by us and used by you. We will, of course, provide products of consistent quality within the scope of our General Conditions of Sale and Delivery.
Disclaimer / Conditions
We strive to be accurate in all of our documentation. However, any information or advice is provided by us in good faith, without warranty or unlimited claim of fitness for a specific application. We sell to qualified industrial users only. The onus is on the product's user to research carefully and then to continually test the product and its application procedures within the context of its specific use. Use of our products and data requires diligance and care, and is within the sole responsibility of the user. Kautschuk-Group does not accept any liability for damages incurred. Our general Terms and Conditions apply.

Stated storage and shelf life times are minimum guaranteed values for a period starting on the day of shipment. After this period has expired, the product requires additional quality control testing but may very well still be within specification.

For updates on product information, please check this web page regularly:
https://kautschuk.com/products/isogran/isogran/is-90-65
Inquiry
Do you want to know more about IS 90-65 (Sulfur)? Send us a message and we'll get back to you!