Product description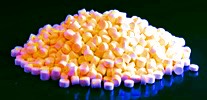 Function: Component of bonding compounds, e.g. for the bonding system resorcinol-formaldehyde-silica.
Composition:
80% Resorcinol
20% Elastomer binder
Appearance: Off-white to reddish granules
Density, 20 ºC: Approx. 1.10 g/cm3
Physiological properties: Please contact us for Safety Data Sheet
Use
Mode of action: Isogran Resorcinol-80 is a component of the bonding system resorcinol formaldehyde silica. In conjunction with a formaldehyde donor (e.g. Isogran HEXA-80) the resorcinol formaldehyde resin, responsible for the bonding of rubber to textile and steel cords is formed during process. This system is suitable for bonding all types of rubber to reinforcing materials, e.g. fabric, glass fibers and metals (e.g. steel-cords).
Processing: The pre-dispersion of Resorcinol in an elastomer binder allows quick absorption and excellent dispersion in the rubber, therefore optimum activity of the Resorcinol is assured.
Dosage
Isogran Resorcinol-80: 2.5- 3.5 phr
Application: Tires, conveyor belts, V-belts, round belts, fire hoses, other reinforced hoses, flexible containers, fabric roofings.
Packing: 25kg carton with PE inner bag
Storage stability: In original closed containers under cool and dry conditions max. 1 year.
Handling: Consult Material Safety Data Sheet (MSDS) for additional handling information on Isogran® Resorcinol-80
Our technical advice – whether verbal, in writing or by way of trials – is given in good faith but without warranty, and this also applies where proprietary rights of third parties are involved. It does not release you from the obligation to test the products supplied by us as to their suitability for the intended processes and uses. The application, use and processing of the products are beyond our control and, therefore, entirely your own responsibility. Should, in spite of this, liability be established for any damage, it will be limited to the value of the goods delivered by us and used by you. We will, of course, provide products of consistent quality within the scope of our General Conditions of Sale and Delivery.
Inquiry
Do you want to know more about Resorcinol-80? Send us a message and we'll get back to you!