Product description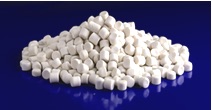 Function: Non-staining special accelerator for the rapid vulcanization of diene rubbers.
Composition:
Approx. 70% Zinc 0,0-di alkyl dithiophosphate
30% silica
Appearance: Beige-white powder
Density, 20 ºC: Approx. 1.3 g/cm3
Physiological properties: Please contact us for Safety Data Sheet
Use
Mode of action: Isogran® ZDTP/S is used as a special accelerator for EPDM compounds containing accelerators of Thiazol and Thiuram class as well as sulphur and zinc oxide. Vulcanizates accelerated by Isogran® ZDTP/S show no signs of blooming when observing the recommendation for the dosage. When using Isogran® ZDTP/S, accelerator systems can be obtained, that exhibit a very good processing safety and storage stability of the accelerated compounds.
As an ingredient of EV systems Isogran® ZDTP/S can be used to accelerate the vulcanization of NR, IR, SBR, NBR, IIR etc. The vulcanizates are then characterized by good resistance to heat ageing.
Isogran® ZDTP/S is used as a secondary accelerator in the sulphur vulcanization of EPDM and NR in combination with Sulphenamides, Thiazoles and Thiurams. It does not build secondary amines during the vulcanization process. Therefore it doesn't form hazardous N-Nitrosamines.
Processing: Isogran® ZDTP/S allows quick absorption and good dispersion in the rubber.
Dosage
Usual dosage of Isogran® ZDTP/S: 2 – 4 phr
Recommended combination with Isogran® MBT-80: 0.6 – 1.9 phr
Recommended combination with Isogran® TMTD-80: 0.3 – 1 phr
In compounds filled with very large amounts of fillers (carbon black, mineral filler or processing oils) the optimal dosage of Isogran® ZDTP/S is: 5 phr
Recommendation
NR
Isogran® ZDTP/S 2.0 – 3.4 phr

Isogran® TMTM-80 0.3 – 0.6 phr

Isogran® MBTS-75 0.6 – 0.9 phr

Isogran® S-80 0.3 – 0.6 phr
EPDM
Isogran® ZDTP/S 2.0 – 3.4 phr

Isogran® TMTD-80 0.3 – 1.0 phr

Isogran® MBT-80 0.6 – 1.9 phr

Isogran® S-80 1.2 – 3.2 phr
Application: Technical molded and extruded articles of all kinds, e.g. sheets, buffers, dock fenders, profiles.
Packing: 25kg carton
Storage stability: In original closed containers under cool and dry conditions max. 1 year.
Handling: Consult Material Safety Data Sheet (MSDS) for additional handling information on Isogran® ZDTP/S.
Our technical advice – whether verbal, in writing or by way of trials – is given in good faith but without warranty, and this also applies where proprietary rights of third parties are involved. It does not release you from the obligation to test the products supplied by us as to their suitability for the intended processes and uses. The application, use and processing of the products are beyond our control and, therefore, entirely your own responsibility. Should, in spite of this, liability be established for any damage, it will be limited to the value of the goods delivered by us and used by you. We will, of course, provide products of consistent quality within the scope of our General Conditions of Sale and Delivery.
Inquiry
Do you want to know more about ZDTP/S? Send us a message and we'll get back to you!